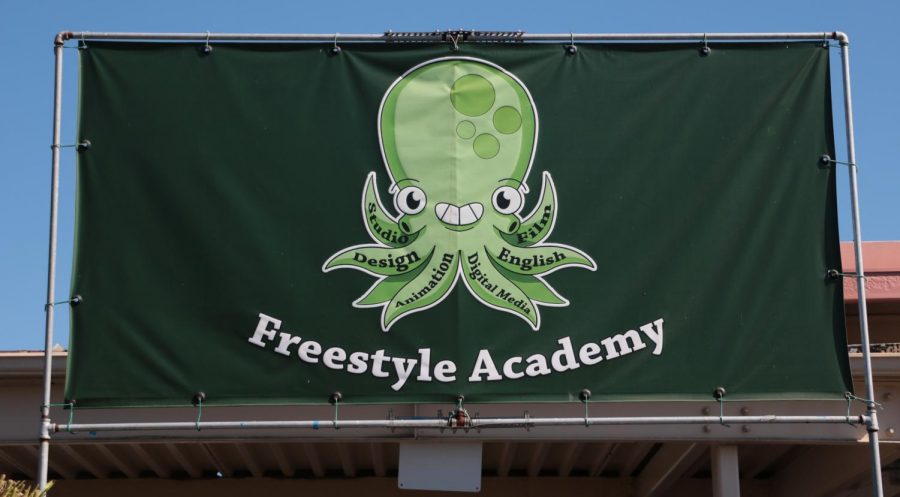 Creativity isn't always prioritized in typical high school classes, often restricting student's abilities to immerse themselves in the arts and think imaginatively. Observing this pattern, the Mountain View–Los Altos District created the Freestyle Academy of Communication Arts & Technology program — commonly referred to as Freestyle — in order to help MVLA students explore these passions in a formally dedicated environment in 2006.
Offered to juniors and seniors interested in self-expression, the academy focuses on project-based learning rather than the notorious lecture-filled classes high school is known for. Freestyle students exercise their critical thinking and artistry through mandatory English and Digital Media classes and a supplemental class of choice — film, design or animation.
"When you graduate from college, you're most likely going to go into a job that doesn't even exist today," Freestyle Program Coordinator and Digital Media teacher Leo Florendo said. "My goal and Freestyle's goal is to get students prepared to do anything in terms of the creative arts. I want them to be unstoppable."
Freestyle not only teaches students to adapt to any given prompt, but gives them the opportunity to discover and showcase their individuality throughout the process. The few basic guidelines given for each project allow students to make it their own and fully express their artistic freedom.
"The level of imagination that comes out every year and what our students produce from just one assignment is so diverse," Florendo said. "The students' personality, their background, their culture and the way they think [all impact the final product]. That's always the coolest part about Freestyle."
The same way each student brings their individuality into Freestyle, they are also able to take something out of the program that is especially impactful for them, even more so for students set on pursuing the arts beyond high school.
"Knowing that I want to major in film, I have no doubts that my film teacher will be able to prepare me over the next two years to succeed in college," film student junior Reed Keenan said. "I could even create a future career path from this experience."