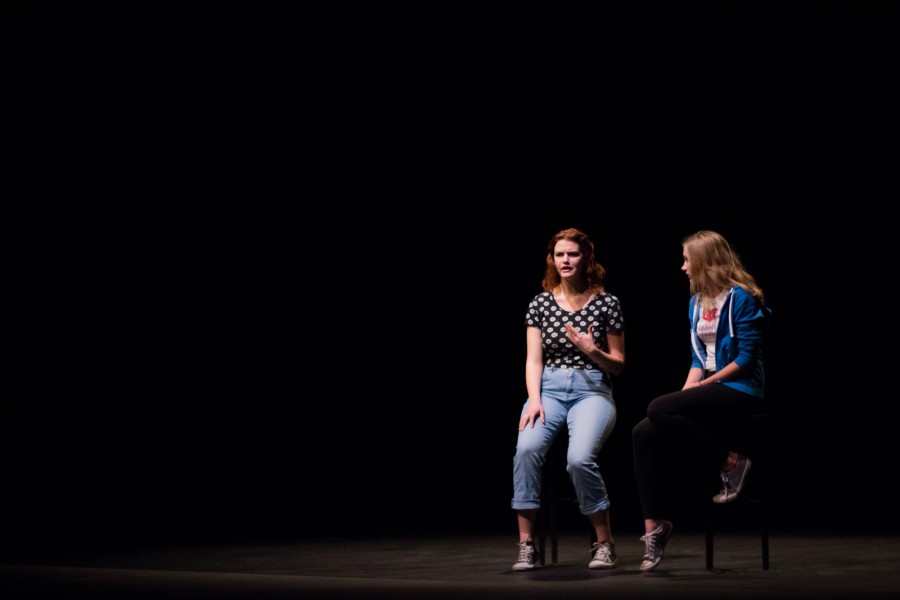 On Thursday, March 5, Broken Box will have the opening night of one of its most controversial plays yet: "The Laramie Project." Read on to find out about the background and preparation behind this show.
Life in Los Altos in 2004 was a different cultural environment than the one we have now in 2015. However, life in Laramie, Wyoming in 1998 was an entirely different way of living, one characterized by outright hostility toward the lesbian, gay, bisexual and transgender (LGBT) community. This intolerance was brought to a head by the murder of Matthew Shepard, a gay student at the University of Wyoming. Shepard's death sparked a national debate on hate crime legislation and homophobia, kickstarting a grassroots movement to bring awareness to LGBT issues.
The media circus surrounding Shepard's death inspired the members of the Tectonic Theater Project to visit the town of Laramie one year later, where they interviewed people who had been there during the aftermath of his murder. Using these interviews, the Tectonic Theater Project created a documentary-style play based on the events and reactions of the people there. The play has since been adapted into an HBO film and performed nationwide with a list of alumni that include Cyndi Lauper, Darren Criss and Andrew Garfield.
Many high schools around the country soon followed up the original performance of the 2000 play with their own productions. Los Altos was no different. In December of 2004, Broken Box performed the play with a message of tolerance for the Mountain View/Los Altos community in mind.
"The play was controversial at the time because of the content and because of the crime itself," Broken Box director Nancy Moran said. "Our focus at the time was really on tolerance, being able to tolerate differences…As I look back on that, I think it was definitely worthwhile and it was a positive experience."
Although Broken Box is no stranger to hot topic plays, "The Laramie Project" presented an extra layer of possible controversy. At the time, the Westboro Baptist Church threatened to picket any school that put on the play. However, these turned out to be empty threats. The real initial challenge was working with the school administration to reach an understanding about the mature themes and profanity in the play. Eventually, the two parties agreed that the language would be censored somewhat, but words that were crucial to delivering the message of the story would be kept.
"The fact that people thought it would be controversial drove a lot of students to [see the play], but I think the end result was that they got the important message," Moran said. "I felt very supported as we ran through that 2004 show. Parents and community members thought it was an important thing [for Broken Box]  to do. We didn't get any real backlash."
Ever since the initial Broken Box run of "The Laramie Project" in 2004, Moran knew that this was a play that the community needed to see again one day. In recent years, Moran has come close several times to picking the play as the drama performance for the year, but ultimately, she decided to hold off until she felt there was a group of students who could handle performing the show.
"I think [this year's Broken Box cast]  has actually risen above my expectations," Moran said. "They often have to play characters that go completely against their own personal beliefs and viewpoints. In that respect, they've come to the table with maturity and commitment, and their passion for the message has really grown as we've rehearsed the play. I can see how much they've grown from doing this as well."
As for the members of Broken Box themselves, they reacted very well to learning that they were going to be performing "The Laramie Project."
"I feel really privileged to get the chance to perform this with Broken Box," senior Eddie Barnes said. "It's a really great feeling working hard trying to do this play justice, and I know there's going to be an even greater [reward]  after we perform. The audience is going to be seriously moved, and to be a part of that makes me really proud."
The unique, unedited documentary style of the play gave the actors, who will each perform as multiple characters, a chance to learn how to quickly transition between different mindsets and beliefs.
"From an acting perspective, this show is an incredibly complex and exciting show to perform," Broken Box member senior Meredith Soward said. "It's very different from most of our other shows, which have a specific storyline and fictional characters… Because it's a true story, each actor is playing people who actually existed and said these things. So there's another challenge of staying true to our characters, and performing the lines exactly as written."
The members of Broken Box hope that the audience will be surprised by the level of professionalism they have put into this performance. With a Broken Box play, it is usually Moran who does most of the crafting and blocking of the show, but "The Laramie Project" was handled differently.
"We were very careful to begin our process by researching the history and the context of the story," Broken Box member senior Elizabeth Kristian said. "From there, we started working together on blocking and staging."
During the production of the play, there was a bigger emphasis placed on making this a collaborative experience for everyone.
"[The play] was written in a very communal way, and we felt it was important to take a team-oriented approach to it," Elizabeth said. "There's absolutely no room for ego in a show like this.  We were careful to make sure everyone had a part in creating the show."
One of their goals for this play is for the audience to walk away with a newfound desire to take a stand and to reconcile their own actions with their beliefs. This time around, they hope that the 2004 message of tolerance is interpreted by the audience as something even more progressive.
"I think the shift now is more [about]  acceptance rather than tolerance," Moran said. "Acceptance shows that the community is willing to move beyond just tolerating something and [is]  really reaching out and standing up for something that is right and accepting people's differences, rather than just tolerating them."
By design, Mountain View High School's theater department will be performing the updated version of the play, "The Laramie Project: 10 Years Later," three weeks after the Broken Box production. Although the two schools did not work together on their respective performances, there is a feeling of camaraderie in being able to tell a story of this caliber.
"I think every generation should be exposed to this play because it teaches us so much about how we react not only to the situation, such as Matthew Shepard's death, but it also shows us how powerful our words can be, how hurtful they can be and how we really need to think before we speak and make judgements about other people," Moran said. "I think that's a long life lesson that [can be learned]  no matter if you're 14 or 54 or 84…That's what is important. It brings people together to talk about these issues."
"The Laramie Project" runs for three nights 7 to 9 p.m. starting tomorrow, Thursday, March 5, and continuing until Saturday, March 7. Tickets are $5 from any Broken Box member and $8 at the door.
For more information on the historical background of "The Laramie Project," click here.