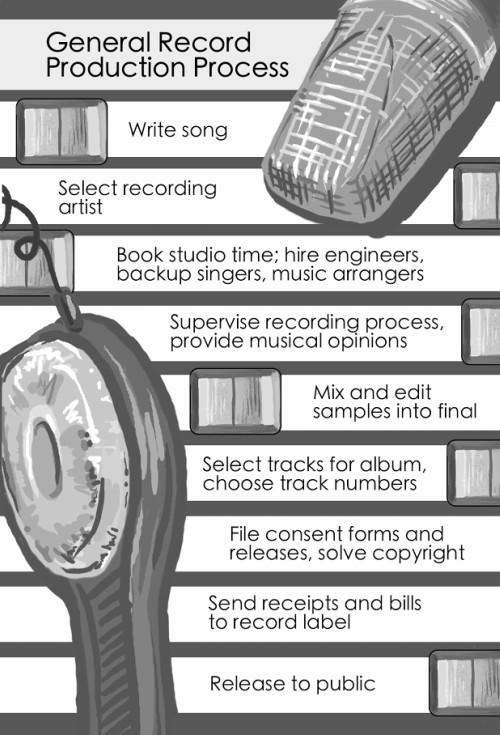 Miranda Li
Producers don't get enough credit
In the simplest analogy, a director is to a movie as a producer is to an album. Producers don't simply produce the song itself; they're also responsible for overseeing the entire album production process, from start to finish. This includes everything from the more technical aspects of filling consent forms and booking studio time to the artistic, creative control of shaping each piece down to each chord progression to make a track into a hit. Despite this, the face on the album cover gets significantly more recognition than the producer— recording artists are given too much credit for the songs they sing, with no mention of the producers who pioneered the project. A common misconception is that a track is the recording artist's brainchild, but in fact, the producer often hires a recording artist after a large portion of the song has already been written.
Producers are paid up-front for producing each track or album by the artist and recording company. They generally earn some sort of base salary or charge a base fee and gain additional royalties depending on the number of record sales. Some are classified as the staff of a recording label, while others work independently as freelance producers. As producers prove their consistency at making hit tracks, they can charge higher fees and work with more prestigious recording artists, thus climbing their way upwards financially and wielding an even larger influence upon the music community.
Producers such as Arca and Boots become celebrities in the music community while remaining relatively unknown to the general public. Despite this seemingly behind-the-scenes lifestyle, music producers often have arguably more influence on the hit tracks that we know and love than the artists themselves.
The recording artist is not much more than a pretty face and a melodious voice. The producer is the one who is truly the pioneer of the project, the captain to the ship that is an album. Despite their endurance of the long and tedious process to produce a product, producers simply don't get enough credit for their work. We see pictures of Beyoncé, of Rihanna, of FKA Twigs. Who is Arca? Who is Boots? There is little to no recognition for the big-name producers that truly shape the entertainment industry outside of the music community.