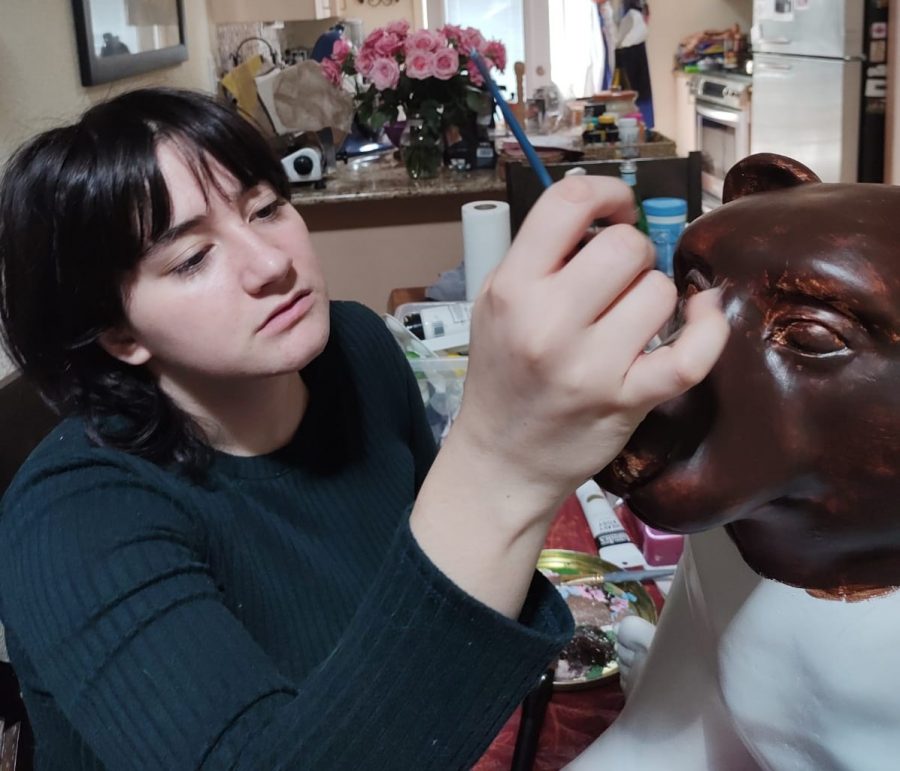 Courtesy Alessia Cis
For the first time in over a century, grizzly bears have once again been sighted in California — this time, prowling the streets of Downtown Los Altos as part of a new public art show. Whether sporting sunglasses or hard hats, saxophones or fruit bowls, the 54 fiberglass bears, courtesy of the Los Altos Rotary Club, have become an object of local pride.
The hand-painted bears each feature their own individual theme complete with custom accessories. After months of work on behalf of Rotarians, sponsors and local artists, they've been set free to roam the city.
Every year, Rotarians organize projects to raise donations for local charities, scholarship funds, wildfire victims and more. However, due to weather in 2019 and pandemic concerns in 2020, funds were greatly depleted.
"We didn't know if we would be able to have an art show where people could gather," Los Altos Rotary Club Member Carol Dabb said. "I came up with the idea of the Los Altos bears because in the event that we couldn't congregate, a bear could be placed here and there without crowding."
Dabb planned out the project in homage to CowParade, a public art event featuring painted resin and ceramic cows exhibited across Chicago. The significance of the bears is two-fold: Not only are they the California state animal, but they can also be decorated to have "fanciful, funny and beautiful" human-like qualities.
"I chose to celebrate coming out of our own pandemic hibernation," Dabb said. "Our goal was to bring joy and happiness back into our community, and people have just been thrilled with the bears. It's a very happy thing."
The bears can be found in a variety of shapes and sizes, from 20-inch sitting bears all the way up to 8-foot community bears. Unique themes were decided by sponsors, who then worked with local artists to achieve a distinct style and feel.
In addition to contacting professionals, Dabb opened the door for student involvement, and Los Altos students ended up painting many of the bears.
"The high school has such talent," Dabb said. "The students that participated were truly talented youngsters, and so willing to give. We also invited various groups of high school-age kids, but Los Altos has had the most — and the best — participants."
The project had no shortage of naysayers in its infancy. People believed that the project would fail to turn a profit, or that the bears would be vandalized. But after the roaring success of the fundraiser, with all bears successfully securing bids, most naysayers have changed their tune.
"It's very gratifying to have so many people say that they're enjoying the bears — and it's been very gratifying for people who told me at the beginning that it was a stupid idea, now telling me they were wrong," Dabb said.
On Saturday, October 9, the bears will be sold at a live virtual auction aptly named "The Hibernation is Over Party." Once winning bidders take ownership of the bears, it'll be up to them to decide where the bears go. But whether they're stalking downtown storefronts or sunbathing in backyards, they'll always be remembered as a delight.
"Many people don't understand the joy that art can bring," Dabb said. "It was a different story once the bears came out on the streets. They ask me, 'Will you do it again next year, Carol?'"