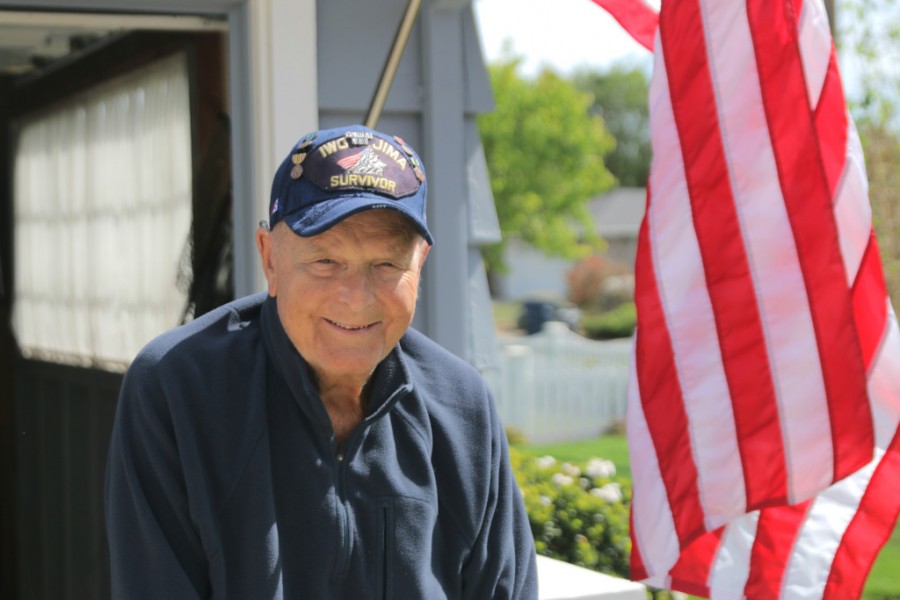 At 89 years old, Al Galedrige is recovering from a long sinus infection and struggles to walk without a cane. But he has no complaints about life.
"I'll be 90 years old on my next birthday," Al said. "I've had a wonderful life. I had that barbershop [Al's Barbershop] for 67 years in Los Altos. Working with the public, I've seen these guys wait until they retire. Then they're too old to go anywhere. So all these years that I was working, I went on cruises all over the world. I must have gone on 18 or 20 cruises. And I figure, I got no regrets."
Having fought and survived World War II along with his three brothers (two of whom also served in the Navy, one of whom was in the Air Force) Al considers himself lucky beyond belief. Time and time again, at the battles of Guadalcanal, Guam, Iwo Jima and Peleliu, Al witnessed horrific injuries and death, yet was never injured himself, except for a small piece of shrapnel too tiny to even dwell upon. But memories of the war haunt him.
"You dream about [the war] all the time, you think about it all the time," Al said. "It never leaves you. I still … think about what we went through. That's something you don't forget."
Born and raised in Hawaii, Al witnessed the Japanese bombing of Pearl Harbor in 1941.
"I was working in my garden when I heard all this commotion, and I looked towards Pearl Harbor and it was all black smoke," Al said. "So I got my binoculars out and watched the whole attack of Pearl Harbor for three hours. I was a little ways from it, but I could see it, I could see all the planes diving and bombing the ship and people and all that. When you see something like that at 16 years old, you can't absorb something like that."
In the aftermath of the attack, the military evacuated all army and navy families from the island, including Al's family because his dad was in the army. Al came to live with his grandparents in Mountain View and on his 17th birthday, he and two other friends signed up for the Navy. This way, they avoided being drafted into the army as a Marine when they turned 18.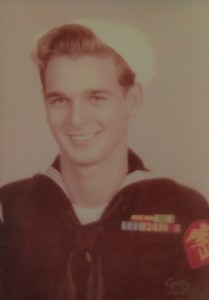 "I didn't want to sleep in a foxhole all full of mud and water and everything," Al said. "I thought, 'Well, at least I'll get good food every day and I'll sleep in a nice bunk every night.' With the army, you're out in the elements, no shelter, no nothing. That's bad, so that's why I joined the navy."
One of Al's first exposures to battle was at the island of Guadalcanal, the site of a strategic air base for communications between the U.S. and Australia. Al recalls the "real thick jungle fighting" that took place on the 2,500 square mile island and the daily night bombings by the Japanese.
"Every night, the Japanese had a—we called [it] 'Washing Machine Charlie', [named thus] because their planes sounded like washing machines," Al said.  "[The pilot] came over and dropped three bombs every night at 12 o'clock. We knew that was going to happen."
The fighting was less predictable and more intense at Guam. In one situation, Al watched an enemy torpedo slice a neighboring boat in half, killing dozens of men instantly and leaving dozens more stranded in the water. Another time, the Japanese launched a surprise air attack on the ships, with one particular torpedo just barely missing Al's ship.
"I saw the pilot laughing in the plane when he pulled up like that [after dropping the torpedo]," Al said. "Then I saw the torpedo coming and I'm screaming to the captain, 'Put it in reverse!' The ship shook, and the torpedo just missed. You kind of shake for a little bit after that and think, boy, how close you came to getting killed. You don't know what the next day will bring."
The more somber sight came after the heat of battle, when the bullets stopped whistling and the counting of bodies began. As Al walked along a jungle trail, he came up a pile of Japanese soldiers piled below a cliff, obviously intended for cremation if anyone had been left alive to do so.
"That was something else to see," Al said. "[We] buried them with a bulldozer, dug a light trench, put a little stick, 500 buried here, 1,700 buried there. That [battle] was terrible because you hear [the Japanese soldiers] fighting all night long, bullets flying, and we go in and we're firing away. It's bad, it's bad. War is a horrible thing. But this is how we have our freedom over here. We have to fight for it."
Perhaps the worst battle Al ever fought in was the battle of Iwo Jima, a five-week battle characterized by fierce and bloody fighting. As a gunner's mate on a landing craft infantry (LCI) gunboat, Al's mission came two days before the battle: his boat, along with 11 others, was to provide cover for the underwater demolition team to do its demolition work, which included sweeping the beaches and offshore waters of underwater obstacles placed by the Japanese.
Nine of the LCI gunboats went in first, while the remaining three stayed back with the understanding that if one of the nine got hit, they would be replaced. But then the Japanese opened fire, mistaking the LCI gunboats for the actual invasion.
"So I'm sitting there with my gun, watching those nine ships [and] every one of them got wiped out," Al said. "Every one of them. I saw guys get blown off the ship…and one [boat] sank in front of me. Then [our] captain says, 'We're going in.' … And I said, 'Well, I'm next.' That's a funny feeling when you're waiting to die and let me tell you, the only thing that came to mind out there when I saw all this happening was my mother getting the telegram saying I'd been killed in action … I swore up and down I wasn't going to come out of it alive. I [swore] I was going to die … You live from day to day out there, you don't know whether this is your last day or not. I think you just get used to it."
In fact, Al's ship took three direct hits, which killed seven men and wounded 35. By a stroke of luck, Al escaped injury.
"When we pulled out, I had to go help out the wounded," Al said. "And the first one that I went to, the Marine had both of his legs blown off. So I gave him a tourniquet and I gave him his morphine. Six months later, I'm looking at the cover of a magazine, and he's walking on a beach [with prosthetics] with his girlfriend. So that was a happy ending there."
Yet amid the devastation, the fear and the pain, Al remembers some happier moments of the war, one of which was witnessing the raising of the flag on Iwo Jima. It later became the subject of a historic photograph.
Al also fondly recalls his interactions with the natives of Guam. Soldiers were forbidden to visit the villages, but Al defied this order and formed strong friendships with the natives, teaching them how to spearfish.
"It was taboo [to visit the villages] but I had a tan and I was born and raised in Hawaii and I dressed up like [the natives]," Al said. "And I'm over there with my toes in, working on a fishnet like I'm one of the natives. The [officers] would come by and look at me and look at me and they go, 'Naw, he's not in the military, he's one of the natives' and I got away with it. That worked out real nice."
Undoubtedly, the happiest moment of Al's experience during the war was when it ended.
"I was spearfishing with the natives of Guam when I heard all these children hollering," Al said. "I heard all this commotion so I swam in, and they were all celebrating, saying, 'Japan surrendered!' So that was a real celebration, real good. I started drinking the native brew they made, called 'tuba.'"
In 1946, two and half years after he first joined the Navy, Al went home. He was now 19 years old, but the war had rendered him and his entire generation of returning soldiers far older than that. For the last two and half years, he had fought for his life, stared death straight in the eye and witnessed the violent deaths of fellow soldiers, experiences that only war can bring. In subsequent years, Al suffered from recurring nightmares, one of many symptoms of Post Traumatic Stress Disorder (PTSD). Doctors understood little about PTSD then and called it "shell shock;" there were no treatments available and Al coped with it the best he could.
Through it all, Al never regrets what he's done.
"I was proud I served my country," Al said. "Every veteran feels the same way, that they served their country when it was in a world war."
And now, approaching 90 years old, Al spends his days pattering around his house, watching Judge Jeanine on Fox News and catching up with his grandson, who will graduate from West Point Academy this coming May. He knows his days are limited, but he doesn't mind. Serving in the war gave him a lot of perspective.
"We don't know how we're going to go," Al said. "But … it's something we all got to do. I'm ready. I've had a good life. I can't complain."
He imparts one final piece of advice.
"Enjoy every day," Al said. "You never know what tomorrow is going to bring."