Skyrim Remastered: Is It Worth It?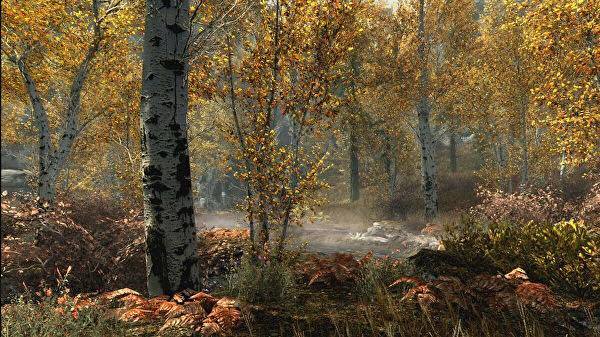 Advertisement
Hang on for a minute...we're trying to find some more stories you might like.
When a game developer announces that it will remaster a game, people hardly take notice, but when Bethesda announces that it will re release one of the most popular games of all time, it makes headlines. As soon as you're riding the carriage, you can already see the improvements. Between the rich grass across the floor of dark forests and light creeping through the tall trees, these sights would ignite a nostalgia for this open world game I explored for months five years ago, but the inconsistency of the graphics upgrade leaves Skyrim in a weird place.
The frozen tundra known as Skyrim looks better here, no doubt, but never quite good enough to let it pass for a modern 2016 game, and it lacks new content to make it feel fresh for a returning dragonborn. I spent the all of my time with the Playstation 4 version of Skyrim Special Edition, which was a big improvement from the Playstation 3 version, which suffered from awful graphics, insufferable load times, framerate issues, and random freezing. This revamped version doesn't suffer from those aforementioned problems.
A side-by-side comparison with the original version quickly unmasks the considerable differences. The Special Edition doesn't go for sweeping character model and animation overhauls like I and many other players had hoped, but it does enhance the world's meaningful details. Another new improvement is there are the new dynamic depth-of-field options, which add some subtle focus to conversations and help focus on a subject. Textures are improved as well, with generally sharper detail everywhere you look.
Skyrim's grim color palette never bothered me, I found it well-suited to the cold and harsh northern setting and story, but I'd be lying if I said I don't admire the way the improved color saturation adds a striking intensity to sunny days around Whiterun, which is further improved by greater draw distances. They're certainly not important enough to warrant a second purchase for the graphics alone, but they're enough to elevate this into the best entry point for new console players.
What's unfortunate is that Bethesda chose to use to the power of the current consoles to make Skyrim look prettier at the expense of making it run better. Special Edition maintains a fairly smooth frame rate around 30 fps with occasional dips, but never approaches the 60 fps you'd hope for in a remastering of an old generation game.
The Special Edition's best improvements, though, deal with the little things, mitigating the annoyances that sometimes made the original a hassle to play. You'll see those faster load times, for one, but there's also a great, yet unoriginal, new feature: the quicksave. These features combine to move the plot along at a faster pace than we saw in 2011. Plus, there's no longer a need to have to sift through each save file to figure out which one belongs to each character, as the Special Edition takes notice from Fallout 4 and sorts them by character.
And yes, there are mods for consoles now. You can get a fair taste of the player created content with the Xbox One version, but the PS4 is much more limited. Sony finally allowed Bethesda to implement mods after long negotiations, but only on the condition that they take up minimal space and use only in-game assets. The end result of all this is that, at the time of this article, the PS4 has about 120 mods compared to the 270+ available for the Xbox One. They're also simpler because of the mandatory use of in-game assets, with some of the more exciting ones amounting to little more than streetlamps and additional signs along roads.
Underneath all of these improvements is a game that remains one of the best RPGs ever made. Some bugs remain (and likely always will) although many of them can produce bizarre and unexpected behavior that can be dismissed as part of a Bethesda game's charm. The number of bugs of the actual game-breaking variety has been much diminished from what we first saw in 2011. To this day, few other RPGs so perfectly capture the experience of trotting out to the wilderness to carve out adventures with any approach you want to take. Even though you'll be shelling out 60 dollars for a not so brand new game, it feels different, and will be worth every cent as you pillage Skyrim for all it's worth.